In a country obsessed with risk free career option (read mediocrity), entrepreneurship or following your heart is not much encouraged.
No Offence to any govt or MNC employees!!
But lately entrepreneurship has given an option to those people who want to follow their intuition and chase excellence. With many success stories, people have realised the potential of startups and entrepreneurship. Eminent personalities like Ratan Tata, Yuvraj Singh and the likes have been investing in new age businesses.
So the season of secure job is ending?
However in last 2-3 years, many fake investors, startup events etc have come up to "encourage entrepreneurship" and projecting themselves to be 'ecosystem builder'. Most of the people associated with these entities do not have entrepreneurial experience (By entrepreneurial experience, I mean they were never part of any thing which has or tried to create any real value) because of which these events did not create the impact which they should had.
No the season of secure investment has begun.
Recently, I went to attend a 2 day startup fest and I could not bear it even for 3-4 hours on first day itself and instead of attending it second day, I chose to roam and see that city. There were lots of people in the fest, lots of discussion happening around startups, investments etc and yet I could not find it interesting (read useful). I observed more of a herd mentality in attendees. Later, I also tried to find any report to know the impact of that fest in terms of – the number of people got funded, the number of people who solved these many problems for their respective startups, these many people actually liked the event etc. but could not find any post/ blog/ report from the organizers.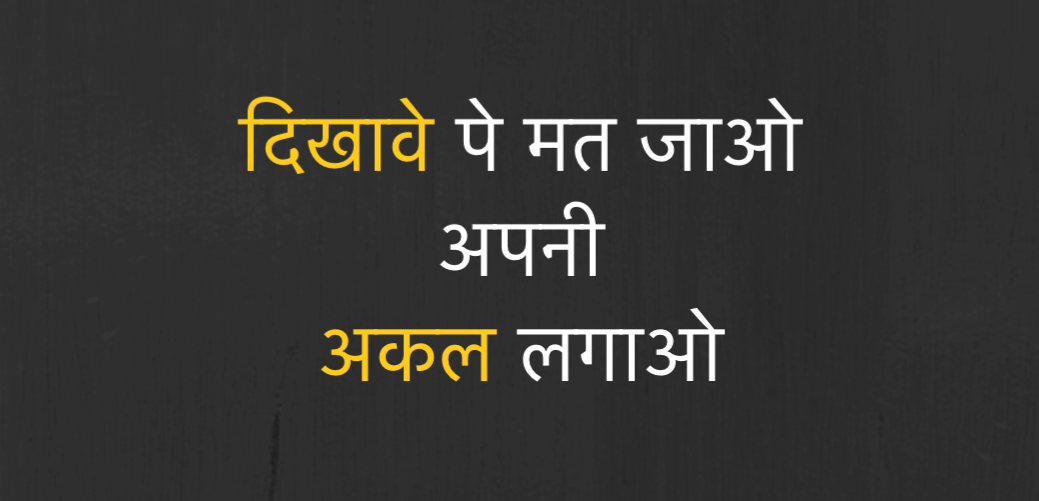 Let us discuss what these events claim to offer.
Meet with Investors
The whole event was projected around 'meet with investors' or 'pitch your startup infront of investors'. Well this seems like a lucrative proposition for every early stage startups but actually it's not. Most of the time I see decision makers from investment firms do not attend these events. I have also not heard any startup getting funded through these events. Even if someone gets money, it's very far and between. Infact I really doubt if anyone has real intention of investing through these events.
Mentoring Sessions
This is another carrot which event organizers give to naive entrepreneurs. They portray these sessions as a by-product i.e even if you dont get money atleast you will get mentorship (read generic gyan). Well every entrepreneur needs guidance and mentoring but how much useful these 1-2 hour of generic sessions in these chaotic events are, I have my apprehensions.
Read more about this – Dilemma of an entrepreneur, whom to seek advice from and whom to ignore
Networking
Everyone thinks that they will meet lot of people, exchange cards and make lot of connections which will help them in their business/ startup. In reality this is the most overrated outcome people expect from these events. As they say – having 1 person who can help you in need is much better that having 1000s of friends on facebook. No doubt, you meet lot of people, some of them are serious entrepreneurs doing good work but most of the time these connections somehow do not help you in your startup execution.
I even shared my thought process with some of the guys I met there and some counter arguments I got in favour of these events were:
Something is better than nothing. Atleast some people are doing something to promote entrepreneurship and to create an ecosystem.

I do not have anything better to do today so it's better to attend and learn something.
I understand that these events are not completely useless, atleast creating awareness and initiating that initial spark. There could always be disagreements when it comes to takeaways but in my opinion if 500+ entrepreneurial people spent 16 hours of time, the value got created was absolutely nothing. Entrepreneurs are mostly short on money as well as on time and last thing they want is to be a part of a highly non productive event.
Also in my personal opinion, something is not better than nothing. Entrepreneurship is a journey of being oneself, thinking independently and rejecting any kind of bad influence. As an entrepreneur we should chase excellence and not mediocrity. For example – secured job is a mediocrity; living life in your own natural self is excellence.  So in order to make these events effective and entrepreneur friendly (yes currently though these events are projected to help startups, somehow I do not get the feeling that they actually are), I have some suggestions.
Peer to peer barter of services
Money is not the only thing startups need, founders need help in many areas and at the same time they can help other founders with their expertise. For example – a founder can help other founder with design strategy in return of content strategy, help in product can be done while learning about hiring from other person and so on. Actually this will change the current mentality of 'only taking' to 'give and take' and will actually help in creating the "ecosystem". The change in mentality will also create meaningful transactions. At the time of registration only, we can take information like – 'what is that one thing you need help with and what is one thing you can help with' and then organisers can do the matchmaking either manually or using any tool. (Let organizers also learn how to create real value other than just organising events :))
Real Mentoring Sessions
Well we do not need gyan on why video marketing or content marketing is important as we can get this generic information from net also. What we need is that how can we crack the problem keeping our respective target audience in mind. Stories from successful startups also do not help much as those are things of past and things have actually become complex now. If you want to mentor me, from your experience tell me the things which I should try. As an entrepreneur, I will experiment, iterate, learn and solve problems. I definitely do not need a session of 'why digital marketing is important for modern startups'!
Help us in getting more traction/ users/ revenue
Instead of helping us with refining our pitch, business model, presentation etc, we entrepreneurs need help in solving/ cracking real problems like how to crack sales for SMB market, how to hire a team of inside sales, how to increase user engagement on my app etc.
Do away with panel discussions
If there are no real entrepreneurs in the panel, just do away with these discussions for obvious reasons. They actually remind us of college lectures, only difference being, here there are 5-6 professors together :). In that event actually one operations manager was talking about entrepreneurship and I could see almost every entrepreneur facepalming. I am not saying panel discussions are bad but then call right people for the job and don't do just for the sake of it.
There could be other things which could also be incorporated to make these events entrepreneurs' time worthy. We ditched our regular jobs because we do not want to be a part of a rat race but somehow I get the feeling that a separate rat race is getting created in a startup world. As they say entrepreneur should either be hot or cold not warm. If we need to create a strong ecosystem, everyone involved should reject mediocrity, should be part of something which is creating real value and should strive for excellence.
Do you think you should attend these Entrepreneurial events and conferences?
(Visited 553 times, 1 visits today)