From a Software Engineer in an MNC, to creating his own path for Startup. Let us walk through at Raunak Pathak's journey on creating his own – Times of Startups!
#1 Tell us about your life journey in brief?
I belong to a small town of Hazaribagh in Jharkhand. I completed my schooling from my home town. After completing my studies from NIT Jamshedpur, I worked as a Software Engineer in a MNC for about 3 years till January 2015. Though not an avid writer since my childhood, I realised my writing abilities when a fiction article written by me in my college Magazine was appreciated by my friends. While in job , it was a bit difficult to find out time for writing and the only writing experience I had was when I participated in an Essay writing competition . After quitting my Job in Jan 2015, I took a break for about 3 months before starting timesofstartups.com. My parents were very supportive and they were happy with my decision.
#2 What prompted you to start Times Of Startups?
Being a Software Engineer, Tech-News and Startup stories have always fascinated me and the most disruptive tech-news you often hear, comes from the world of Startups. I have always wanted to know more about new technologies which prompted me to read and know more about the companies which are working on them. It was during late 2014 when I realised that instead of just reading, why not have a website of my own by which I can not only write about Startups but at the same time interact with some of the founders who are working on some ground breaking and innovative ideas. By doing this, I can not only satiate my appetite for knowing new technologies and Startups but at the same time let others display their Startups to the world by providing them a quality platform.
#3 What type of news you cover and why?
In my opinion two things are very important for Entrepreneurs. To remain updated with almost anything and everything in the domain in which they are working and have constant motivation to not giving up because an entrepreneurial journey is fraught with risks and can sometimes be dark. I try to cover these aspects in my website by providing Startup news viz. funding, cover article, major feature addition etc. and motivational stories. Along with publishing Startup news from India and other major countries , I have also published interviews of Startup founders from India, US and Sweden among others. Since 9 out of 10 Startups fail within the first 2 years of their operation, along with concentrating on your core competence, in this digital age , getting right exposure is also an important component in determining the success or failure of any Startup.  My website provides entrepreneurs a platform using which they can reach out to masses.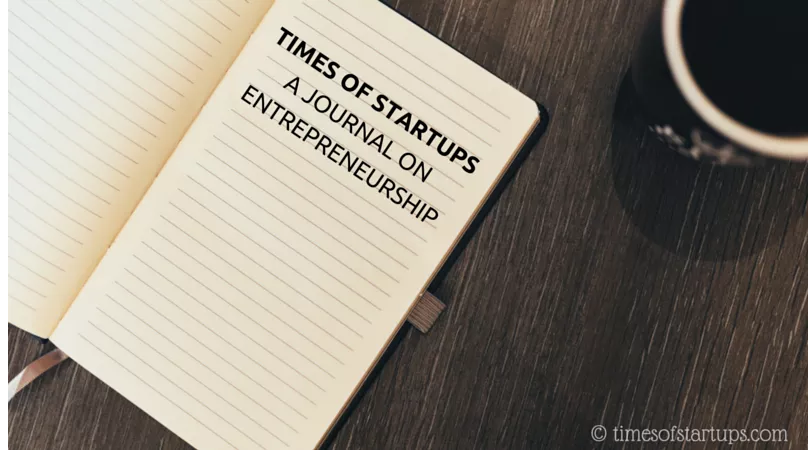 #4 What is your dream/ vision?
I believe, India is currently going through the phase which the United states went through during early 1980s. Lots of innovations are taking place and the environment is perfect for anyone who wants to tap the immense opportunity the country has to offer. However, the benefits arising from the opportunity that the current Startup boom is offering has been concentrated in few cities of India, mostly in south and west with other few cities in the NCR region. I don't want a lopsided growth story written for India. Therefore my dream is that the eastern side of India, which includes my home state of Jharkhand  as well see growth in its entrepreneurial base which will ultimately lead to more job creation and less migration of quality work force to different states.
#5 What difficulties you face while running the show?
Things have been smooth so far. However, sometimes it gets really difficult to select publication requests and to select the story you want to share. Sometimes people want anything and everything to be published and sometimes such requests are too many. In that case I have to politely decline them.
#6 What inspires you or keeps you going?
Till now, it has been a great learning curve for me. Apart from learning about Startups, I learned a lot about managing multiple things that goes into running a website. Right from designing a website to its maintenance. Also, the constant opportunity of learning new things daily and the response I get from the founders and readers after the stories are published keep me motivated.
#7 Any fun/ memorable incident so far in this journey?
There have been many memorable incidents so far. But the most memorable one was when I got my first contributor who emailed me some of his previous works and asked me if I could publish his article on my website. Currently I have regular contributors from two countries, India and United States.
#8 What advice you'd like to give to a newbie in this field?
People read quality articles and the bounce rate of your website can be high if you compromise on quality. If you are into publishing articles, be selective in the kind of stories you publish and decline any such requests which are sub standard.
#9 Anything else you'd like to share?
Apart from publishing news and stories on Startups, Times of Startups has partnered as 'media partner' with some of the Engineering colleges in Jharkhand and West-Bengal during their E-Summits.
If you are also an influencer/blogger and want to get featured, create your profile here.
If you are looking to create a video for your startup/ organization, submit your requirement here
(Visited 331 times, 1 visits today)