Do you know…
In 1 minute 3 seconds of uploads to YouTube, 1 million babies are born.
If a video is made it will be of 2 days 15 hours long [Source].
This makes youtube really competitive platform to endorse your work. It is indeed a traffic source with almost boundless potential. The best part of this is that you can also make money from your videos posted on YouTube if you are good with video SEO and getting enough views.
But unless, your videos are not visible on youtube search result, you are same as the next door uncle who has all his relatives in Civil Services but no one gives a damn about it!!
Perceiving the high competition present on the site, the obvious toss is how you can make people watch your video, instead of millions others.
What is Youtube SEO?
Unlike facebook, views of a youtube video increases if people find it when they search for a query on google or youtube. That means your video is optimized for search.
Uploading a video is not just enough until you are a big brand or a celebrity, you need to create a video that stands out from others. Even after creating a video, the biggest task would be to upsurge its reach to your target audience to make it viral.
If you are not doing apposite YouTube SEO, you are missing a lot of traffic and conversions.
We have monitored YouTube SEO religiously after creating our initial videos and comprehended how YouTube SEO can help you in getting traffic in just few days. Let's jump directly into the how to of SEO for your youtube videos and channel.
Optimization for search
While searching videos on YouTube, most people pay earnest attention to the title and to the description as well. The more optimized your video title and description is, higher are the chances of its visibility to your target audience. To get a better view on optimization, search YouTube deeply on what others have done before you on the same work. You can search impeccably by using various filters provided on the website, such as by date or by duration. The best way would be to search by rating or number of views to get an idea on what people like most.
Use Keywords In The Title
In our last article, we gave you few research on how just optimizing video title can get you huge traffic. Video title is the name of your video which define your video and depicts what is there in the video. You are required to make it SEO friendly to make it searchable on Google and YouTube. Auto-suggest provided on YouTube can help you getting apt results for keywords, just start with typing the title and it will give you the most popular keywords which you can use in creating the title for your own video.
Compiled Video Description
Video description plays an important role in SEO as Google and YouTube don't know what is there in the video, their search results rely heavily on your description. Add a link at the top of the video description. Include your primary keyword in the first 30 words and put a description of at least 200 words. Include your keywords 3-4 times and not more than that. This optimized description will tell Google and YouTube what is there in the video and will help in ranking.
Add Tags about your Video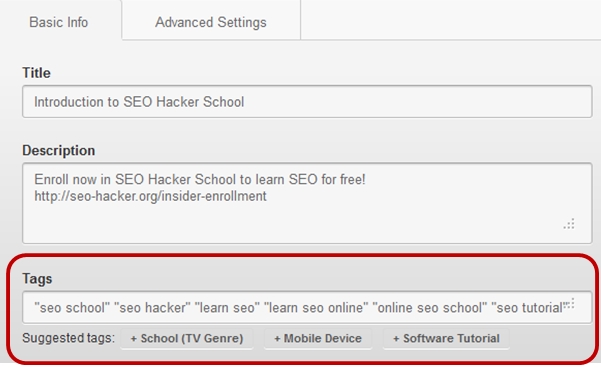 Tags may not play that significant role in SEO but they help in getting unforeseen views. Tag your main keywords first and then move to general or matching keywords. It will also secondarily help Google and YouTube in learning what your video is about. The most prominent role of tags is that they show up more often as a related video in the sidebar area of the YouTube. For example, if someone is watching the video which has a similar tags as your video, your video will be added to the sidebar.
Video Filename
Done with the video? Make sure that you use the keywords in the video's filename telling your search engines what is there in the video. Many people make the mistake of rendering the video file as Ser012.mp4 or Vid-12.mp4 and confuse the search engines what is there in the video. This is the foremost part professed by the search engines before they clench your video. Put your targeted keywords in the file name which will indeed help in getting higher rank.
We hope this article helps you in knowing all about youtube SEO. If you are looking to create digital video content, then get in touch with us now at Stagephod. Submit your video requirements here.
Get video marketing insights in your inbox
(Visited 57 times, 2 visits today)