Can you guess?
Which is the second largest search engine after google…
It's not Yahoo, it's not Bing, but YouTube. 100 million internet users watch online video every day and YouTube recently revealed that mobile video consumption rises every year by 100%. All this data endorses the significance of video marketing for your business. 
Entailing the potential of video, hence video marketing, you cannot afford to ignore these stats if you are planning to invest in video marketing.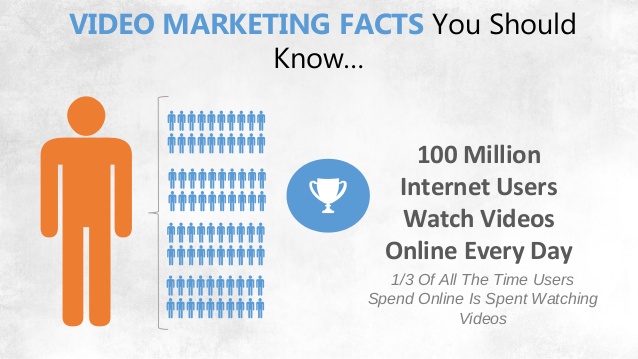 55% SMBs claim that video helped them in developing their brand value and video marketing is a must.[source]
52% marketers claim that a video content is best type of content for ROI.[source]
Videos are the marketing newest weapon because watching one minute of video is worth reading 1.8 million text content. Which is again equal to writing 1600 blog posts. [source]
59% of executives agree that if both text and video are available on the same topic, they are more likely to choose video.[source]
26% of online audience look for more details after watching a video ad, if they like it.[source]
According to Vindico 80% of online video ads are abandoned within the first half of the ad. [source]
54% of mobile consumers prefer ads which are incentivized in some way (i.e. rewarded video) versus traditional pre-roll ads. [source]

According to a study done by Sysomos, approximately 16% of YouTube videos are shared, linked or embedded every Tuesday.

People who do online shopping are likely to convert 18. times faster after watching a video than those who don't watch a video. [source]
On an average 20% of your audience abandon the video within the first 10 seconds of playback. So if your online video campaign has 10 million viewers, 2 million of them saw less than 10 seconds of it. [source]
There is no formula for a video length to go viral but if you are not able to get attention of your audience in first 8 seconds, you will lose them for ever. Human has an attention span of  seconds only.[source]
Also, if you have not fully engaged your audience after the first 30 seconds, you've likely lost 33% of viewers; and after one minute, 45% of viewers have stopped watching.[source]

Wistia revealed in its study that 90% of online buyers find the video helpful in making purchasing decision.

Two third of the online viewers prefer to watch videos under 60 seconds.[source]
But videos of length upto 2 minutes get most engagement.[source]
500 Millions people are watching videos on facebook everyday.[source]
85% facebook videos are watched mute.[source]
65% of people who watch the first three seconds of a Facebook video will watch for at least 10 seconds, and 45% will watch for 30 seconds.[source]
Facebook has the 8.4x higher video engagement than any other social channel available now.[source]
82% Twitter users watch video content.[source]
93% of Twitter videos are watched on mobile.[source]
Videos directly uploaded on Twitter drive 2.5x replies, 2.8x retweets, and 1.9x favorites than a third party video.[source]
Snapchat users watch 10 billion videos per day.[source]
Snapchat video ads capture over 2 times visual attention than Facebook video ads, over 1.5 times than Instagram, and 1.3 times than YouTube.[source]
If a video is embedded in a page, it will rank higher bringing 157% more traffic from SEO.[source]
Also, people spend on average 2.6x more time on pages with video than without.[source]
Conversion chances on landing pages increase by 80% if a video is used.[source]
Facebook videos have 10times higher reach to your target audience than Youtube.[source]
If a video is combined with a full page ad, it boosts conversion by 22%.[source]
Contentwise the most popular form of online video content is 39% comedy, 33% news an 31% music.[source]
43% of marketers said they'd create more video content if there were no obstacles like time, resources, and budget.[source]
8 among 10 adults between 18-49 year old watch YouTube in an average month.[source]
Using the word "video" in an email subject line increases the open rate by 1% and boosts the CTR by 65%.[source]
51% of all digital videos are played on mobile devices.[source]
4 out of 5 consumers agree that a demo video is more helpful than a text brochure.[source]
Viewers remember 90% of the messages from a video than reading same content in text form.[source]
Companies which use videos in their marketing grow revenue 49% faster year-on-year than those which don't use video marketing.[source]
Read again if you missed any of the 37 stats. I know they are a lot of them but trust me, each one will account for the success of your video marketing campaign.
Video marketing is the ruler now. If you are still into the planning mode, get your team immediately together for an awesome video marketing strategy. You can start with analyzing some of the viral video marketing campaigns and start crafting your own strategy. 
Get video marketing insights in your inbox
(Visited 42 times, 1 visits today)