Show me, don't tell me.
If given a choice most people would want to watch a video instead of reading an article on the same topic. This deliberation is thought-provoking and divisive keeping the different opinions in the loop. Articles and blogs take time to read and if readers didn't find something interesting, chances are they will not finish it. Video is a wonderful recipe of story, music and melody, explicating your ideas.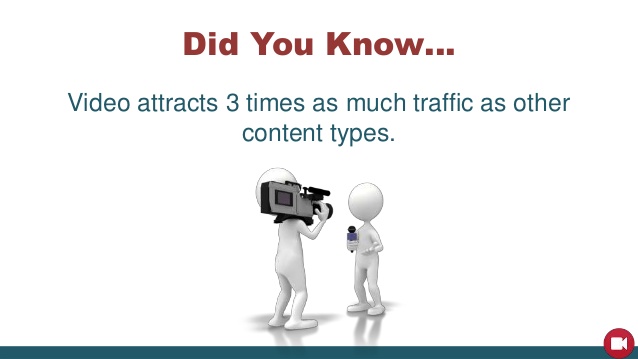 If you are planning to organize any content marketing campaign then don't restrict yourself to blogs, articles and images. Companies which are not using videos as their marketing tools are missing out a lot in terms of bringing its company to lives. Having pioneered in viral videos for 200+ startups, Stagephod.com brings you top reasons on why video is an important part of content strategy.
Unparalleled Reach
Indeed an important reason to start a resounding process!! Video, crafted with a creative sense is not about your company but instead about the person who is watching. Video thoroughly connects people to your brand by apprehending them on somewhat absent in their lives. You can create a video focussing on the product or by keeping it to the secondary theme. Make sure to add a link to the product or your website in the video description.  
The best example for this would be the video created by OYO Rooms on Independence Day. The video did not just garner enormous views in a single day but amplified their thousand followers on Facebook and Twitter simultaneously.

Emotional Hook
Videos make their presence felt in a more delicate and hidden way, they might not provoke your audience to buy a product on an abrupt basis but they will play a greater role in a lateral decision process. It combines the plethora of background music, face expressions, tone of voice, and amazing emotional hook. Right music can just be an apt add-on for your video and can certainly be a persuasive weapon.
The Urban Ladder did a stunning job by creating a short film 'The Homecoming' in which the furniture brand plays a key role in bringing two generations of a family to stay together.
Easily accessible
To concentrate on any article or blog, you would need your hell amount of peace but for videos, all you need is smartphone inured with headphones. With a sumptuous range of smartphones and tablets available in the market, it is already known that a significant population is already connected to the internet through that small screen. So, you already have a significant population to focus on.  The next task is to create something interesting for them.
Flipkart successively proved how accessible they are when it comes to shopping by creating a video, which is indeed an accessible mode for audience to watch.
Cost saviour
Not a few years ago, making video used to be an expensive endeavour involving many months and lakhs of rupees. With better technology around, the production of video content has become much more affordable now and can be made in assured time. Even though getting artists, script writers, editor, and videographer can be a strenuous task. To fill that gap, you can easily outsource your videos from video experts.
When MakeMyTrip launched an elite feature 'Uncancel' they didn't spend mammoth money on putting up banners, they dotingly created a video recounting a story of a son who is about to meet his dad for the first time and how a cancelled ticket does not halt his plans.
Are you also looking to acquire users for your startup? Well, you are indeed on a right podium. We contrived with expertise in video creation and marketing. We create viral videos to increase engagement and traffic. Reach out to us anytime for any of your queries related to video.
Submit your video requirements here
Featured image source
Get video marketing insights in your inbox
(Visited 119 times, 1 visits today)