The growth of video intake via mobile phones is taking video marketing by storm, but the recent revealed data will indeed depict how foremost role video will play over the next few years. Video will account for 70% (which is an increase of 55%) of all mobile traffic in next five years, according to a data published by an Ericsson Mobility Report. Internet has so successfully amplified videos, which can be corroborated with the fact that in the US, 8 of top 10 popular celebrities are YouTube stars. Here are some stats about digital video marketing to help you out with your strategy.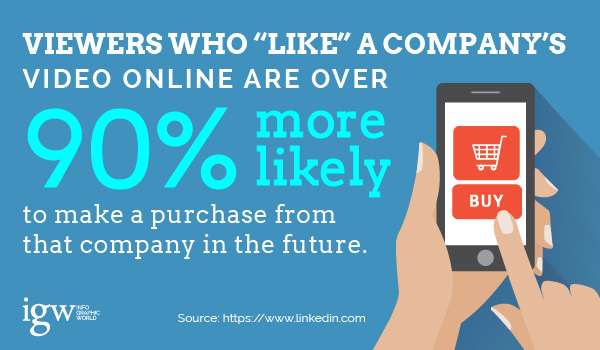 Video ads
YouTube holds 20% of the market share of total video ads in the US.

The video ads have the highest CTR of all digital formats, which is staggering 1.84 percent.

It is expected that revenue of online ad will rise significantly i.e 2015 ($7.7 billion), 2017 ($11.25) and 2018 ($12.82).

As revealed by Priori Data 2016 Adblocking report, the growth of mobile ad blocking is taking place faster than desktop.
Online viewing data
Approx. 45% of the mobile videos watched on mobile phones were less than 6 minutes in 2015.

People spent 23% of their time watching videos (30 to 60 minutes) on tablets, which surpassed other devices.

65% watched videos longer than 30 minutes and 81% watched videos longer than 10 minutes.

YouTube accounts for 50-70% of all video traffic across the mobile phone network.

Video will take hold of 70% of all mobile traffic by 2021.

An average person spends 12.1 hours on subscribed digital videos and 12.1 hours on free digital videos.

Snapchat viewers now watch 10 billion videos per day.

Approx. 85% of Facebook video is watched without sound.

Viewers spent 40% more time watching video content on Instagram.

People watch 100 million hours of video on Facebook every day.

Out of total 28 billion devices connected by 2021, 16 billion will be connected by internet.
Where people are watching?
50% of viewers will be watching videos on mobile devices in 2016.

20% of video views took place on mobile devices at the beginning of 2015.

Mobile video views increased by 400 percent from 2012 to 2014.

53% of people watch videos on Facebook, 62% on cable/satellite TV, 66% on Netflix and 85% on YouTube.

YouTube reach is sumptuous enough that it reaches more 18-49 years older than any other broadcast and it does that only on mobile phones.

About 800 YouTube channels have more than 1 million subscribers.
What customer demands?
48 hours of video are being uploaded to YouTube every minute.

About 69% of total internet traffic will be video by 2018.

US people watched 38.2 billion videos in 2014 alone.

Video will consume 23.3% of marketing expenditure in 2020 compared to 17% in 2015.

Video marketers have increased their investments by 114% over the last two years.

The average American will use 22GB of mobile data per month and most of that will be for watching video by 2018.

Teens spend 85% of their time watching videos whereas 50% for watching TV.
This data clearly entails, why you should be actively involved in a video strategy for growing your business? What does this data mean for your company or for your online business? Let us know in the comments.
In case if you are looking to outsource your video creation/ marketing process, we at Stagephod.com would be happy to help. Submit your requirements here – Yes, I need help on professional video creation and marketing.
Get video marketing insights in your inbox
(This post was imported into WordPress in one click using 

Wordable)
(Visited 284 times, 1 visits today)